Do you remember those younger years when you could go out every weekend? What a life! The loud music, your body moving (probably against another body), sweat trickling down your forehead and back. This was not without a few shots, beers ama mizinga za Gilbey's to make you care less about your two left feet or the fact that you are considered shy when sober.
Now, those weekends seem far away, like a dream even. Ten years down the line, life has evolved. You're now a family man/woman, juggling a family, kids, and impromptu crisis of that one friend who decided settling down is not their potion. You have a lot on your plate and going out every weekend is no longer an option. However, there are celebrations adults get to indulge in every now and then like anniversaries, barbeques, birthdays, dinners, and even lazy weekends at home.
On these occasions, most of us serve our guests or even ourselves from a bottle of whisky or a 5 liters wine box. It is an effortless way of getting people to relax without much trouble. But once in a while, let us surprise our friends, family, and even ourselves by being a little thoughtful, a little fun, a little "cocktaily".
A cocktail is an alcoholic mixed drink. It is a combination of spirits with other ingredients like fruit juice, cream, or flavored syrup. Here are 10 tasty cocktails to try at home on that special or lazy day.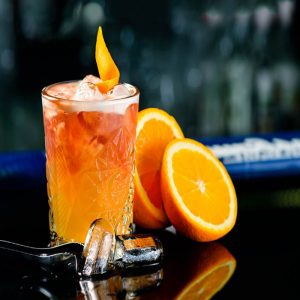 1. Godfather cocktail; a duo mixed drink made of Scotch whisky and amaretto
Godfather is a cocktail made of scotch whisky(especially smoky whisky) and Amaretto. Though its origin is uncertain, The amaretto brand Disaronno claims the drink was the favorite cocktail of American actor Marlon Brando, known for playing the character in the popular American film adaptation of Mario Puzo's The Godfather.
It  uses one-two-ratio of Amaretto to Whisky (25 ml amaretto to 50 ml whisky)
Ingredients: 50ml of scotch whisky, 25 ml of Amaretto (Disaronno)
Preparation:  Measure the parts of whiskey and amaretto into your old-fashioned/rocks glass, stir gently. 
Served: Add ice and garnish with a twist of orange.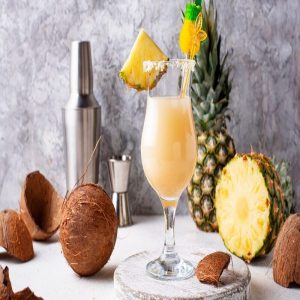 2. Pina colada; a sweet cocktail made of rum, coconut cream, and pineapple juice
The name piña colada (Spanish) literally means "strained pineapple", a reference to the freshly pressed and strained pineapple juice used in the drink's preparation. The earliest known story states that in the 19th century, Puerto Rican pirate Roberto Cofresí, to boost his crew's morale, gave them a beverage or cocktail that contained coconut, pineapple, and white rum. This was what would later be known as the famous piña colada.
Ingredients: 30ml of white rum (Bacardi), 30ml of coconut cream/milk, 90ml of pineapple juice, Ice cubes
Preparation: Put all the ingredients in a blender and blend for about 10 seconds; what we are looking for is a frothy consistency.
Served: Pour into a hurricane glass or any glass for that matter. Garnish with pineapple and cherry.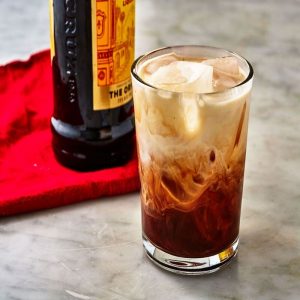 3. White Russian; a cocktail with vodka, coffee liqueur, and cream 
The White Russian has been around since the 1960s when liqueurs were very popular. It enjoyed a brief surge of fame in 1998 when the actor Jeff Bridges constantly sipped it in the film The Big Lebowski.
Ingredients: 45ml vodka, 30ml coffee liqueur (kahlua), 30ml cream. 
Preparation: Pour the vodka, coffee liqueur, and cream in a shake.
served: strain over fresh ice in a rocks glass.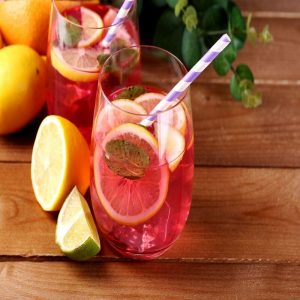 4. Sea Breeze; a cocktail with vodka with cranberry juice and grapefruit juice
Sea Breeze's main ingredient is Cranberry juice. The Cranberry was first mixed with gin and later vodka. This cocktail only became popular until the 1970s.
Ingredients: 30ml vodka, 60ml cranberry juice, 30ml grapefruit juice, lime for garnish
Preparation: Pour vodka, cranberry juice, and grapefruit juice in a tall glass with ice.
served: Stir gently until the outside of the glass feels cold, then garnish with the lime slice.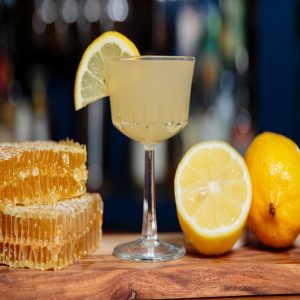 5. Bee's knees; A cocktail made with gin, lemon, and honey
The Bee's Knees cocktail is a gin, lemon, and honey cocktail that dates back to the prohibition-era. The phrase "bee's knees" was prohibition-era slang for "the best." The addition of ingredients such as citrus and honey were often used to cover the awful smell and taste of bathtub gin. The result was a fantastic concoction we get to enjoy today.
Ingredients: 60mL Gin, 15mL Fresh Lemon Juice, 15mL Honey Syrup (a mixture of water and honey on equal ratio)
Preparation: Pour the gin into a glass, followed by lime juice, and finish with honey syrup. Add ice and give it a quick shake. 
Served: Strain into a cocktail glass and garnish with a lemon twist.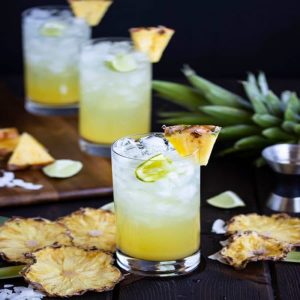 6. Pineapple Fizz; a cocktail made with coconut rum, pineapple juice, and sparkling water
This is a zesty tropical drink made of coconut rum that adds a soft sweetness to the background of the cocktail, and a heavy splash of soda water brightens it all up. A refreshing cocktail enjoyed on a sunny Saturday afternoon.
Ingredients: 30ml coconut rum(malibu), 60ml pineapple juice, soda water, fresh pineapple for garnish
Preparation: Mix the rum (malibu), pineapple juice, and a little bit of sparkling soda water into a shaker and give it a good shake. 
Served: Pour it over ice and garnish it with a fresh piece of pineapple.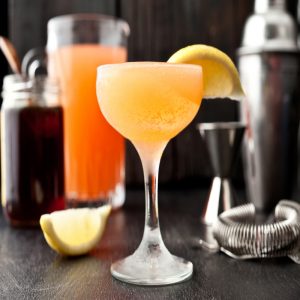 7. Brown Derby; A brunch cocktail made with Bourbon whiskey, grapefruit juice, and honey syrup
The Brown Derby is considered a brunch cocktail in that it is "tart enough to wake up the palate, but not tangy enough to jolt as it comes across as light and fresh.
Ingredients: 60ml Bourbon Whiskey (Maker's Mark), 30ml Fresh Grapefruit Juice, 15ml Honey Syrup 
Preparation: Assuming you have measured the ingredients, pour the bourbon  ( Maker's Mark), the grapefruit juice, and honey syrup into a shaker. Fill it with ice and give it a good shake. 
Severed: strain it into a cocktail glass and garnish it with grapefruit.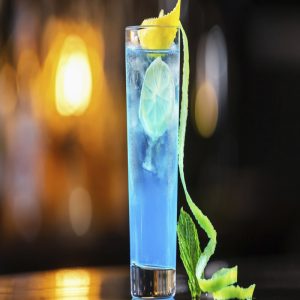 8. Blue Lagoon; A colorful, sweet aroma cocktail made with vodka, blue curacao, and lime juice
Blue Lagoon is known for its quality to quench thirst and jolt the body. Therefore, perfect for a hot day. The cocktail has a sweet aroma and a delight for the eyes ( it is sky blue in color)
Ingredients: 30ml vodka, 30ml blue curacao, 90ml lime juice
Preparation: To an ice-filled shaker combine vodka, and lime juice. Shake well.  
served: Add ice to the serving glass and pour the mixture into it. Drizzle blue curacao on top. Garnish with a lemon wheel and a cherry. 
9. Brandy Flip; A Flip cocktail made with brandy, whole egg, and simple syrup
The very first Flips emerged as early as the late 1600s. They were originally created with a mixture of sugar, eggs, and spices being added to a tankard of ale before being heated with a red-hot iron poker from the fire. Now, a Flip commonly refers to a cocktail of fortified wine or spirit and whole egg sweetened with sugar.
Ingredients: 60mL Brandy (Torres 10 Years), 30mL Simple Syrup, 1 Whole Egg
Preparation: pour in the brandy, followed by a whole egg, the sugar syrup into a shaker. Dry shake it (shaking without ice ) first. Add ice, and give it a second shake.
Served: strain it into a stemmed cocktail glass. You may garnish with freshly grated nutmeg.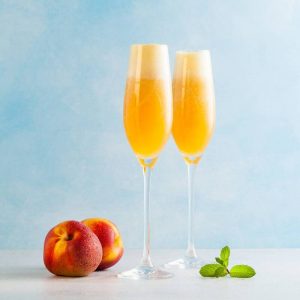 10. Bellini; A wine cocktail made with peach puree and sparkling wine
The Bellini is a wine cocktail. It is one of the most popular Sunday relaxation cocktails either by the pool or just relaxing on the back porch.
Ingredients: 60ml peach nectar (or peach puree), sparkling wine (prosecco)
Preparation: pour the peach nectar into a wine glass then fill it up with the Prosecco wine. You can use champagne or sparkling wine in place of Prosecco if you would like.
Served: stir gently and garnish with orange zest.
Try this any of these 10 tasty cocktails and watch how significantly your circle of friends and family start flocking your house more often.
Order your desired mixers from our website at fair prices. We offer delivery services and free deliveries for orders above Ksh 3000. We also have non-alcoholic drinks for those who like mocktails (A mocktail is a cocktail without the liquor. Instead, juices, sodas, infused waters, and many other non-alcoholic ingredients, mixed in just the right ratios, provide flavor)
All the other non-alcoholic ingredients can be found in our local major supermarkets. Try making one or a couple of the cocktails and let us know how they turn out in the comments below.
By Roseline Maina: Digital Marketer