Introduction
Freedom lies in being bold! This is a mantra many of us use; live by. Truer words were never uttered than when Kenya was fighting for its independence. We fought for our rights as human beings, we fought for belonging in our own lands, we fought for peace, fought for our motherland; and won.
Winning! We Kenyans do like celebrating a win, raising our beer bottles, whisky and wine glasses to arsenal winning (we know how rare this happens), to Kenyan athletes who make us proud, to milestones in life. This time, we want to raise our glasses to Kenya, to our freedom, liberties and peace. However, what brand of beverage will you be doing this with? How about we celebrate Madaraka Day with Kenyan beverages, made in Kenya, for Kenyans. 
Why do we celebrate Madaraka Day?
Why do we celebrate Madaraka Day? Or, what is Madaraka Day? Madaraka Day is a holiday in Kenya celebrated every 1st June of every year. This is to commemorate the day in 1963 we attained self-rule after being a British colony since 1920. 
We at Jays Wines would like to celebrate this Madaraka Day by recognizing and appreciating the milestones made in our industry. Appreciating the old and new, the movers and shakers in the game. 
Let's look at Kenyan, made-for-Kenya beverages.
Kenyan Beers

Tusker Lager
Tusker Lager is a beer brand owned by East African Breweries. The highest quality malt barley is used giving a medium to gold beer with a white head, crisp and clean aromas with a touch of citrus.
EABL brews this beer from 100% African ingredients that it sources locally; the barley originates from the Savannah and the Maasai Mara, the spring water is drawn from the Aberdare Mountains, and all the yeast is locally developed. The name "Tusker" emerged as a memorial in honour of George Hurst, a co-founder of Kenya Breweries Ltd, who tragically lost his life to an elephant during a hunting expedition in 1922. The brand has since grown to be EABL's flagship brand.

Tusker Malt
Tusker Malt is 100% Malt brewed as EABL's first premium brand, This malt was initially launched in the Kenyan market in 1996 after years as an export-only brand.
The Tusker Malt brews for longer than other contemporary lagers, giving it an unmistakably rich, smooth premium taste that is widely recognized and loved by consumers.

Tusker Cider
Tusker Cider is an alcoholic drink made from crushed fruit. This Cider is a deliciously crisp, premium-crafted drink created from fresh apples, well-balanced for a refreshing drinking experience.  It delivers a rich fruit flavour and a sharp Tusker Premium Cider. It is the first locally-produced cider in East Africa and made in Kenya.

Tusker lite
Introduced to the East African market in 2011, Tusker Lite is a low-carb beer uniquely brewed with natural ingredients. It pours a light golden colour with a white head and grainy aromas. It is clean with a light body and a light bitterness on the palate. Delivering an easy drinking experience with a true enthusiasm for life, Tusker Lite is a lighter, premium lager with a full-bodied taste – for trailblazers of tomorrow who know how to make the most of today.

Whitecap
White Cap's aroma and flavour both provide huge citrus notes of orange and grapefruit along with apricot and blueberry, hints of clove and a grainy character – more crockery in the aroma, more toasty in the flavour. The body is light gold, very cloudy with a quickly dissipating, pillowy, white head.
White Cap Lager is named after the magnificent snow-capped Mount Kenya. Boasting of consistent quality, White Cap is unique and full of character. It is the connoisseur's beer.
Kenyan Wines

Leleshwa Sauvignon Blanc
Leleshwa Sauvignon Blanc is a crisp, off-dry palate that hints at tropical fruit flavours that include passion fruit and grapefruit. It's best served with seafood, chicken dishes or pasta.

Leleshwa White
The Leleshwa Sweet White wine is inspired by the Kenyans' sweet tooth. It is a sweet white blend of grapes, reminiscent of ripe citrus fruits. It pairs really well with light spicy dishes, fruity desserts and sweet sauces. Serve well chilled.
Kenyan Vodkas 

Kenya Cane
Kenya Cane is smooth and light. A 40% abv triple-distilled spirit made from fermented sugarcane. Its essence and distillation process brings out a fine distinction from other vodkas. It was first produced in 1976 and has grown to be even more superior; always holding up its true mantra 'Celebrating Your Moment'.  
Commonly referred to as K.C, it is a versatile spirit, with a wide variety of cocktail applications. It is proudly made in Kenya, by Kenyans. 

Kibao
Kibao is a bottle inspired by the tropical blend of cane spirit and pineapple, a well-known fruit whose taste is loved by many Kenyans. A KWAL product, Its prices are pocket friendly to consumers, as well as, its versatility when it comes to making cocktails not forgetting its distinct taste that is acquired through a rigorous distillation process of potato peels which form the basic ingredients for the spirit.
Kenyan Whisky
Hunters choice
Hunter's Choice is one of  KWAL's products,  Kenya's finest blended whiskies. Hunters Choice Whisky is a very aromatic whisky with hints of peat and fruit.  A specially blended fine whisky: rich, smooth and mellow drink for the discerning drinker.
It reflects the spirit of adventure and is the perfect drink to travel with this Madaraka Day for parties and camping trips.
Kenyan Tonics and Ciders

KO Classic African Tonic
KO Classic African tonic is a tonic, made by Kenyan Originals. It is a refreshing and zesty drink, made with natural quinine from DRC, citric zest, juicy apple, and grape skin. It has no preservatives, artificial flavouring, or artificial sweeteners. Best served with gin over ice with a wedge of watermelon and basil. Mix it with a spirit for a natural and delicious drink. 

 KO Hibiscus & Lime Tea Cider
KO Hibiscus & Lime Tea is an uplifting Kenyan cider (8% abv) – Open up to the powerful punch of Kenyan Ice Tea, made with  Kenyan Tea from Kericho and hibiscus from Meru. Pressed, blended and bottled at our awesome site giving you a subtle sweetness and crispy flavour. 100% real fruit and tea. Enjoy as a refreshing afternoon drink or an alternative to alcohol.

KO Lime & Ginger Cider
KO Lime and ginger is a natural ready-to-drink cider (8% abv), made by Kenyan Originals. This drink is made with freshly grated ginger, hand-squeezed limes from Garissa, grapefruit, and a touch of apple juice. It is 100% natural with no added preservatives or additives. This zesty, sweet, and punchy drink can be served cold or poured over ice with a sprig of mint and a slice of lime.

KO Mango & Ginger Cider
KO Mango and ginger is a ready-to-drink cider (8% abv) made by Kenyan Originals. It is made with freshly squeezed mangos from Makueni, freshly grated ginger, and apple. Mango and Ginger is 100% natural with no additives or preservatives. Serve cold or poured over ice with a slice of mango and lime.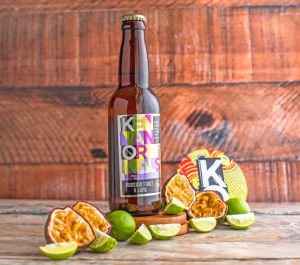 KO Passion Fruit & Lime Cider
KO Passion fruit and lime is cider (8% abv) made by Kenyan Originals. It is made from fragrant Kenyan purple passion fruits fromNyahururu which are deseeded, blended, and then added a dash of fresh hand-squeezed lime from Garissa. The end product is a sweet-tart cider. It is 100% natural with no additives or preservatives. Serve cold or poured over ice with half a passion and a slice of lime.

KO Pineapple & Mint Cider
KO Pineapple and mint is a pineapple mojito made in Kenya. A cider (8% abv) made with ripe pineapples from Kisii and Thika that are honeyed, juiced then mixed with fresh mint and lime. The mixture is then blended with cider. KO Pineapple and mint is 100% natural with no additives or preservatives. 
Serve this punchy and sweet drink cold or pour it over ice with a chunk of pineapple and a sprig of mint.
KO Rose & Cucumber Cider
KO Rose and cucumber is a Kenyan-made cider (8% abv) made by Kenyan Originals. It contains natural quinine, real dried roses picked from Naivasha, and crushed cucumber from Kiambu. Rose and cucumber is 100% natural with no preservatives, additives, or artificial sweeteners.
Serve this fresh, sweet, and floral drink best with gin over ice, accompanied by freshly chopped cucumber and dried rose petals. Mix it with spirit for a refreshing and floral drink.
Conclusion
As we celebrate our independence and reflect on how far we have come as a country, and as self, let us do so by enjoying Kenyan-made beverages. Let us raise our bottles, cans and glasses to a country of possibilities, to a life of possibilities. Happy Madaraka Day, salute!🍷🍺
Order from Us this Jamhuri Day
We at Jays Wines are here to deliver to you any drinks you might require. Shop with us this Madaraka Day for any of the above drinks and more, and they shall be delivered to you at your doorstep by our diligent and prompt riders. 
Jays Wines is the best place to buy drinks online in Nairobi. We have fast delivery within Nairobi CBD and its environment. Get free delivery for orders above KSh 3,000/-.