The range of whiskies available today is nearly overwhelming, isn't it? I mean, what should you consider when ordering a whisky? Is it the cost, the aging, the taste notes and flavors, or do you just order because of the packaging and hope it tastes as good as it looks or even better! At Jays Wines, we stock a broad selection of whisky brands; whether single malt or blend,  Irish or Scotch, Tennessee or Bourbon, Indian or Japanese Sake, the list is endless. You may need to understand your drink before settling for a particular brand, and today we go all the way to Scotland, the biggest producer of whisky in the world, to talk about the Glenmorangie whisky range.
Glenmorangie distillery was established in 1843 in the very northern highland of Scotland, by brothers William and John Matherson. Though it was founded in 1843, production did not start until 1849. The distillery was bought by Moet Hennessy in 2004. Moet Hennessy went ahead and gave the Glenmorangie brand a total revamp, discontinuing the 15 and 30-year-old bottles and renaming the remaining bottles.
Glenmorangie's single malts are acclaimed for their incredible smoothness, richness, and intriguing complexity. In pursuit of the exceptional, The distilled Glenmorangie's spirit is distilled in Scotland's tallest stills. Their long copper necks – the same height as an adult male giraffe – allow only the very finest vapors to rise to the top for a wonderfully pure and fragrant spirit, bursting with fruity, floral complexity.
Up to 60% of whisky flavour comes from wood, as a result, the American white oak Quercus alba was chosen for Glenmorangie distillery. To guarantee supply, the company bought an entire forest of its own."We found that these oaks grow more slowly and develop a wider, more porous grain, with lower tannins and a little more vanilla character," Dr. Lumsden says.
Once the oaks are chopped down, they are fashioned into plank-like staves that are left in the open air to season for 24 months. This process further accentuates the wood's porous qualities, resulting in a softer, smoother whisky. The seasoned staves are then turned into 200-liter casks. The final stage is to char the barrels over naked flames for 15 to 45 seconds. This process converts the wood sugars into wonderful vanilla, toffee, caramel, and coconut flavors. 
The casks are leased to bourbon makers in Tennessee and Kentucky, filled with sour mash bourbon whiskey, and set aside to mature. In the end, any residual raw oak flavour will have disappeared, leaving only luscious undertones of creamy vanilla and caramel.
Once emptied, these casks are shipped to the distillery, where they are refilled with spirit and laid down in dark, cool, earth-floored warehouses for a long slow maturation.
Below find the most popular whiskies in the Glenmorangie whisky range.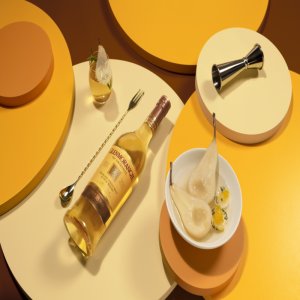 Glenmorangie Original 
Glenmorangie Original is the most popular single malt whisky in Scotland and the flagship single malt whisky from the Glenmorangie Distillery. Using only the finest Scottish barley and mineral-rich water, as required of all single malt Scotches, the Glenmorangie is one of the finest single malts. It is produced by marrying the delicate spirit that emerges from Scotland's tallest stills, with first and second fill American white oak casks.
Maturation takes ten long years in a range of ex-bourbon casks. The raw spirit develops a perfect balance between sweetness and complexity. Resulting in a mature spirit that is soft, mellow, and creamy. Perfect for enjoying at any time.
Nose: The scent of citrus and ripening peaches is softened by the aroma of vanilla.
 Palate: First, vanilla is detected on the tongue before it ripples along the palate bringing a burst of flowery fruitiness.
 Finish: About a minute after tasting, you are left with a clean and salving aftertaste with hints of orange and peach.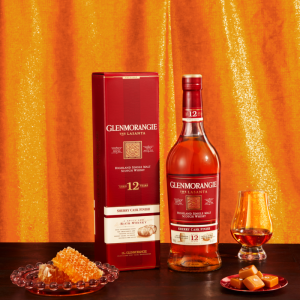 Glenmorangie Lasanta 
The first 10 years of Glenmorangie Lasanta is basically the original in ex-bourbon oak casks. This is then put into Oloroso sherry casks for additional two years, which makes it "sherry finished".
Nose: Warm spices mix with smooth chocolate-covered raisins, honeycomb, and caramel toffee.
Palate: Deliciously sweet sherry flavored sultanas, orange segments, walnuts, and butterscotch combine to create complex warm spices.
Finish: Long and satisfying finish with spiced orange and chocolate-covered hazelnuts.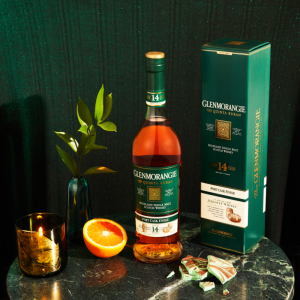 Glenmorangie Quinta Ruban
Glenmorangie Quanta Ruban is the darkest and most intense whisky in the extra-matured range. Quinta Ruban has spent 10 years maturing in American white oak casks, before being transferred into specially selected ruby port casks from the Quintas or wine estates of Portugal.
Extra maturation in these port casks develops Glenmorangie Quinta Ruban into a whisky with a complex balance of sweet and dry flavours and an intriguing contrast of smooth and crisp, cooling textures. Non-chill-filtered for additional aroma and mouthfeel.
Nose: Dark mint chocolate, tangerines, and Seville oranges mingle with sandalwood and walnut before giving way to a spicy finish of pepper and nutmeg.
Palate: Mint chocolate and walnuts envelop the palate like velvet, laying the foundations for rose, Turkish delight, and sweet Seville oranges.
Finish: Long-lasting silky aftertaste leaving dark chocolate mints and traces of orange.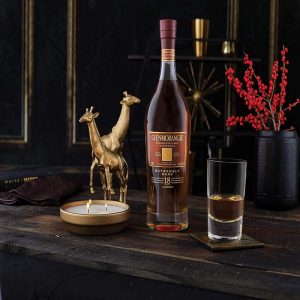 Glenmorangie 18 Years
Part of Glenmorangie's Prestige Range, Glenmorangie 18 Years spends its first 15 years in American white oak bourbon casks. After this time, 30% is transferred to Oloroso sherry casks where it spends the remaining 3 years, as the rest remains in bourbon casks. After 18 years have passed in total, the whisky is reunited and bottled at 43% ABV. A thick, creamy, and fruity single malt Scotch whisky presented in a wonderfully elegant bottle. 
Nose: Creamy and tangy notes of citrus, cinnamon, stewed fruits, and caramel-drizzled pannacotta.
Palate: The palate is tropical and creamy with nectarines in yogurt, acacia honey, peaches in cream, and butterscotch.
Finish: Ends on tangy oak and grilled grapefruit with plenty of dark sugar caramelized on top.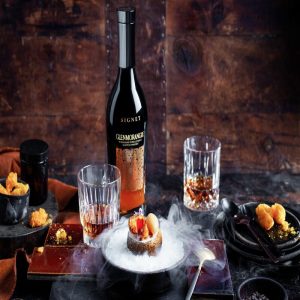 Glenmorangie Signet
The Glenmorangie Signet is distilled twice through Glenmorangie's copper-pot stills, by a team of 16 distillers known as the 'Sixteen Men of Tain'. It was subsequently matured in bespoke American virgin oak casks before it was bottled at 46% and received no chill-filtration.
While it carries no-age-statement, it has an element of some of the distillery's oldest and rarest stocks, ranging from 35 to 40 years old, in this Highland single malt.
This edition takes its name from the ornate square design that adorns most Glenmorangie bottles. The signet itself originated from the Hilton of Cadboll Stone, a Pictish artifact that dates back to around the year 800 AD.
 Nose: The nose begins with chocolate raisins and sugared mixed peels. Toasted spices, bread and butter pudding, and golden syrup complement these aromas, while a note of Angostura bitters lingers beneath.
Palate: Sweet, syrupy cinnamon and drying malt lead, before a suggestion of Terry's Chocolate Orange rises. The backdrop is filled with tobacco leaves and freshly roasted espresso beans, with a little honey-roasted cashew.
Finish: The finish dries and becomes pleasantly rubbery, as a touch of truffle oil emerges.
The Glenmorangie brand has a wide range of premium whiskies, and we could not possibly mention all of them. If you would like to learn more about their products, check them out here. 
Glenmorangie is best served neat, at room temperature to better appreciate its aromas and flavors. However, if you want to enjoy it any other way other than neat, add a little water, it has been known to enhance the aroma of the whisky and bring to the surface hidden characteristics.
After reading this piece, you might want to get yourself and/or a dear friend a bottle of one of the top 10 best whisky brands in the world! You can purchase Glenmorangie whiskies from our website. We will deliver at your doorstep, in Nairobi, and its environs for free.
We do personalized gifts and engravings for that special love, friend, or family member.
By Roseline Maina: Digital Marketer