Introduction
A while back, before I became a wine connoisseur, ahem😜, I was out on a date. We ordered a bottle of red wine to share and I took my first sip. It was delicious! Since then, I have enjoyed trying different wines and learnt about the different flavours and aromas that each wine has to offer.
I now enjoy sharing a glass or two (or three!) of wine with friends and family and love introducing others to the world of wine.
Why Should You Try Wines?
There are many different types and styles of wine. They include white wines, red wines, sparkling wines, and rosé wines. 
White wines are typically light and refreshing, making them a great choice for ladies who want to enjoy a glass of wine without feeling too full or intoxicated. 

Red wine is not only delicious, but it has many health benefits as well. Studies have shown that red wine can help reduce the risk of heart disease and stroke, lower cholesterol levels, and improve brain function.

 Sparkling wines are also a popular choice among ladies, as they tend to be lower in alcohol content and offer refreshing bubbles.
Rosé wine is another excellent option for those looking for something lighter; it is often fruity and easy to drink.
No matter your preference, there is definitely a type and style of wine out there that will suit your taste! Here are some wines worth trying:

The Nobile Wines
Nobile Wines are produced by the Wein-und Sektkellerei Company established in 1992, in Germany. They specialise in producing high-quality, handcrafted wines that reflect unique tasting wines. 
Famous presidents, popes, and Italian royalty have long enjoyed the Nobile wines. As one of Germany's largest wineries and a producer of fine wines, the Wein-und Sektkellerei Company has a well-established reputation over the years.
Nobile wines are available in both sweet red and sweet white flavoured wines; cream, chocolate, coffee, and cream flavours making them among the best wines for ladies.
Among the Nobile wine varieties in Kenya are Rosso Nobile Al Cioccolata, Nero Nobile, Crema Nobile Cioccolata, Bianco Nobile white sweet, Rosso Nobile Marzipan, Rosso Nobile Cherry, and Rosso Nobile Alla Nocciola.
Nobile wines are becoming increasingly popular in Kenya, particularly among ladies. These wines are worth a try.
Pairing: Pair red wines well with grilled or roasted meats, specifically beef, lamb and duck
            : The white wine pairs beautifully well with delicious desserts.
Click here to view or/and buy.

Mucho Mas
Mucho Mas is a dry wine that originates from the Spanish region of Catalonia. The name "Mucho Mas" means "a lot more" in Spanish, and this wine certainly lives up to its name! 
Mucho Mas Red
Mucho Mas Red is a full-bodied red wine with intense flavours of dark fruits and spices, with a long and lingering finish.
Pairing:  perfectly with hearty meats and cheeses, making it the perfect choice for an evening dinner.
Mucho Mas White
Mucho Mas White is bright and straw-coloured with greenish tints, and peach and apricot aromas. With mouth-watering flavours of tropical fruit, subtle vanilla, and well-balanced acidity, this drink is rich and full.
Pairing: Ideal as an aperitif, but also pairs nicely with pasta, grilled seafood, smoked hams, and cheeses.
 If you're looking for a dry wine that will leave you wanting more, Mucho Mas red or white is the one for you!
Click here to view or/and buy.

Pierre Marcel
Pierre Marcel is a gorgeous French wine. It is a sweet, easy-drinking wine with fruity flavours.
Pierre Marcel White
Pierre Marcel White wine is a delicious, refreshing wine that is perfect for any occasion. The subtle flavours of this wine are sure to please any palate, and the crisp finish makes it a perfect choice for any occasion. It can be enjoyed on its own or paired with your favourite food.
Pairing: salmon, turkey, chicken and ham dishes, as well as pasta, pizza, and grilled meats.
Pierre Marcel Red
Pierre Marcel red wine is made from the Gamay grape. It is a light-bodied wine with high acidity. The flavour of Pierre Marcel red wine is fruity and floral, with notes of cherry and raspberry.
Pierre Marcel red wine is a fruity, medium-bodied wine with aromas of blackberry and spice. It has flavours of black cherry and vanilla, with a long finish. 
Pairing: Pairs well with grilled meats, pasta dishes, and hard cheeses.
Click here to view or/and buy.

Asconi
Asconi Wine is a family-owned and operated business in Moldova that has been making wine since 1994. The Asconi family takes great pride in their wine-making process and only uses the finest grapes to produce their award-winning wines. Asconi wines have a rich flavour and smooth finish. They are enjoyed by wine lovers all over the world.
Asconi winery makes a wide variety of wines ranging from dry reds, white brands, rose and fortified wines. Some of the wines include Asconi Moscato, Asconi kiss Me Now, Asconi Kagor Lux sweet red, and Asconi Pastoral.
Pairing: Pair Asconi White with Sweet desserts
             : Pair Asconi Red with  Barbecue, smoked meats, spice meats, or spicy sauces
Click here to view or/and buy.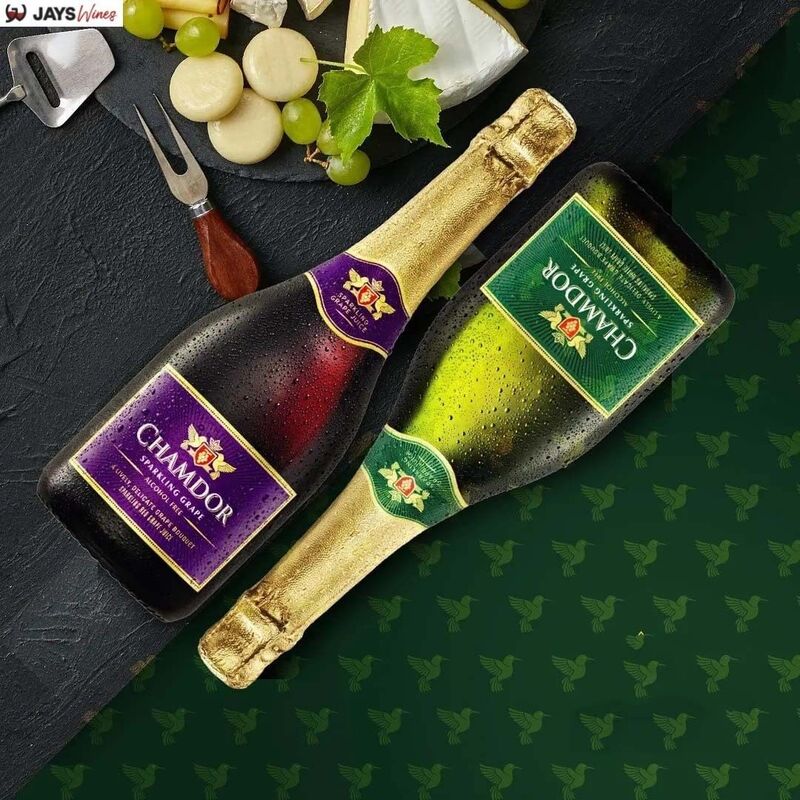 Chamdor Non-Alcoholic Wine
Chamdor is a wine that originates in the South African region of Chamdor, since the early 1970s. The wine is made from a blend of Chenin Blanc and Muscat varieties. and has a light, fruity flavour. This is among the best wines for ladies, especially the teetotaler.
Chamdor Sparkling White
Chamdor Sparkling Grape White is an alcohol-free sparkling grape juice. The drink is smooth, sweet and sensational for every occasion.
Pairing: Pairs well with seafood or poultry dishes.
Best is best served chilled.
Chamdor Sparkling Red
Chamdor sparkling non-alcoholic red wine has a ruby colour and black cherry-scented aromas. It is full of vibrant grape and cherry fruit and has an appealing smokey flavour. It is smooth and rich. The finish of this Red Blend is long, fruity, and lingering.
Pairing: salmon, turkey, chicken and ham dishes, as well as pasta, pizza, and grilled meats.
Click here to view or/and buy.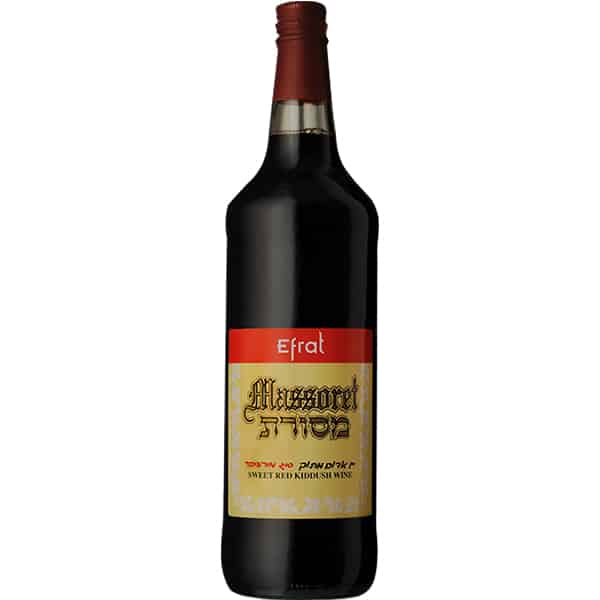 Efrat Massoret
Efrat Massoret wine is a red wine produced in the Galilee region of Israel. The wine is made from a blend of Cabernet Sauvignon and Merlot grapes and has a deep ruby colour. 
Massoret means 'tradition' in Hebrew in Israel. This wine is frequently consumed and is used for Kiddush, the Jewish blessing over the wine.
The nose of the wine is full of dark fruit aromas, with hints of chocolate and coffee. On the palate, the wine is medium-bodied, with firm tannins and good acidity. 
The finish is long and lingering, with flavours of blackberry jam and spice.
Pairing: Pairs well with grilled meats and hearty pasta dishes.
Click here to view or/and buy.

Altar Wine
Altar wine is used in religious ceremonies. It is made from red grapes and has a high alcohol content, of 18%. These red grapes grow in holy places and a priest often blesses them before they are used. Did you know that Altar wine is consecrated by a priest and used in holy communion?
This wine has been used in Christian churches for centuries and plays an important role in many religious rituals.
It can also be enjoyed outside the church confines, so let no one tell you that you cannot. 
Pairing: Best enjoyed after a meal
Click here to view or/and buy.

Frontera
Frontera wines are produced in Central Valley Chile. The climate in this region is perfect for growing grapes, and the soil is rich in minerals, which gives the wine its distinct flavour. Frontera wines have a deep colour, are full body, and pair well with meats and cheeses.
Frontera has a wide portfolio of wines; Frontera Sweet, Frontera Dry and Frontera Sparkling
Click here to view or/and buy.
Pairing: Pair the red wines with red meat and spicy foods while the white wines with white meat like fish, poultry and salmon
Robertson
Robertson wine is produced in the Robertson Wine Valley in South Africa. The climate in this region is perfect for growing red grapes, and the wines produced here are some of the best in the world. Robertson wines have a deep, rich flavour and beautiful colour and are considered among the best wines for ladies.
Robertson wines come in sweet White and Red wines.
If you're looking for a delicious wine to enjoy, be sure to give Robertson wine a try!
Pairing: Pair white wine with salmon, turkey, chicken and ham dishes, as well as pasta, pizza,                                            and grilled meats.
            : Pair the white wine with red meat or spicy dishes
Click here to view or/and buy.

4th Street Wine
4th Street wine is one of the most popular wines in Kenya, obtained from selected vineyards with quality grapes grown in the Western Cape, South Africa. These wines are referred to as romantic wines.
The 4th Street wines come in 4th Street Natural Sweet White, 4th Street Natural Sweet Red and Natural Sweet Rose Wines.
Pairing: This wine is best when accompanied by spicy mini tacos, gingered chicken or spicy poultry dish. 
We highly recommend 4th Street Wine if you're looking for a good affordable wine.
Click here to view or/and buy.
Conclusion
There are many different types of wine, and it can be difficult to know which ones are worth trying. However, this list of the best wines for ladies are definitely worth seeking out.
You can view or purchase various types and styles of wine from our website, here. 
Buy your favourite drinks Online in Nairobi and we will deliver to your doorstep, in Nairobi, and its environs for free. We also have next-day delivery within the country.

Gift Hampers
Do you have someone in your life who is always there for you, no matter what? Someone who is always willing to lend a helping hand, or just be there to listen? Show them how much you appreciate them with a personalized gift hamper.
We offer gift hampers that include their favourite drink, as well as personalized gift wrapping and engravings. This is the perfect way to show your loved ones how much they mean to you. Let us help you show your appreciation with a bottle of their favourite drink.
Which drink (s) would you like to try from our list of the most popular drinks for ladies?
Cheers🍷!
By Roseline Maina: Digital Marketer