Everyone loves being appreciated, especially when a gift is included; we are always told actions are better than words. It is that time of the year when we get to appreciate and show gratitude to those who have been by our side through thick and thin, those who have held our hands and encouraged us to keep on, those who cheered us on, and those who have made the year worthwhile. We obviously do not need to, but we want to.
As part of the festive gifting, corporates are also not left behind. Companies have been known to appreciate their business partners, clients, and also employees. The most common form of gifting is drinks. Gifting a drink is really personal: shows interest in the person, shows friendship and kinship.
Here are the ideal drinks that would work perfectly as corporate gifts.
Premium Drinks
Premium drinks are high-end, top-shelf drinks. These are drinks that are particularly suited for gifting your partners, clients, best-performing managers and employees. 

Macallan Oscuro
The Macallan Oscuro is drawn exclusively from oak casks seasoned with Oloroso Sherry. An exceptionally high proportion of these are first fill, which endows the whisky with a rich, deep colour and intense flavour.
When the casks are at the peak of maturation, the whisky is gently reduced to 46.5% alcohol by volume with natural spring water drawn from boreholes deep under The Macallan Estate. 
It is then matured in slumbering casks for at least six months, allowing the flavours to 'marry' and harmonize. It undergoes no further strength reduction and is non-chill filtered at ambient room temperature before being bottled for your enjoyment.
Click here to view/buy.

Johnnie Walker King George V
In 1820, John Walker started out in business with a single small shop, but he always had big ambitions. Just over a century later, John Walker & Sons was awarded a Royal Warrant by King George V.
John Walker & Sons King George V commemorates the granting of the Royal Warrant on 1 January 1934.
It is created using only the finest whiskies from distilleries that were operating during George's twenty-five-year reign (1910 – 1936). They are blended together to reflect the distinctive Johnnie Walker style of the era.
It is an opulent and regal blend. Sensuous, layered and intense, the John Walker & Sons King George V is a kaleidoscope of flavours and aromas. Hints of roasted nuts, dark chocolate and an imposing sweet smokiness combine elegantly with suggestions of honey, citrus orange and rose petals. This is an extremely complex luxury whisky.
Enjoy it in any way you like, but we recommend it neat or over ice.
Click here to view/buy.

Johnnie Walker Blue Label
Johnnie Walker Blue Label is an unrivalled masterpiece – an exquisite combination of Scotland's rarest and most exceptional whiskies. Only one in every ten thousand casks has the elusive quality, character and flavour to deliver the remarkable signature taste. This is definitely an extraordinary whisky for extraordinary occasions.
Nose: Take in the wonderfully mellow, rounded nose – busting with dry smokiness artfully mixed with the sweetness of raisins.
Palate: Serving a velvety combination of vanilla, honey and rose petals – before broadening out to include a zesty orange flavour with notes of hazelnut, sherry and dark chocolate.
Finish: Signing off with a rich and luxuriously long finish, which showcases Johnnie Walker's trademark smokiness in the most sophisticated way.
Find a new way to enjoy your favourite Johnnie Walker whisky by exploring these Johnnie Walker whisky cocktails. Serve a measure of Scotch over ice, topped up with soda for a refreshing and universally popular Highball. You can also combine your Johnnie Walker whisky of choice with sweet vermouth and a dash of bitters. 
There's no end to the list of incredible combinations that can be made, so get creative with a bottle of Johnnie Walker and your preferred mixers.
Click here to view/buy.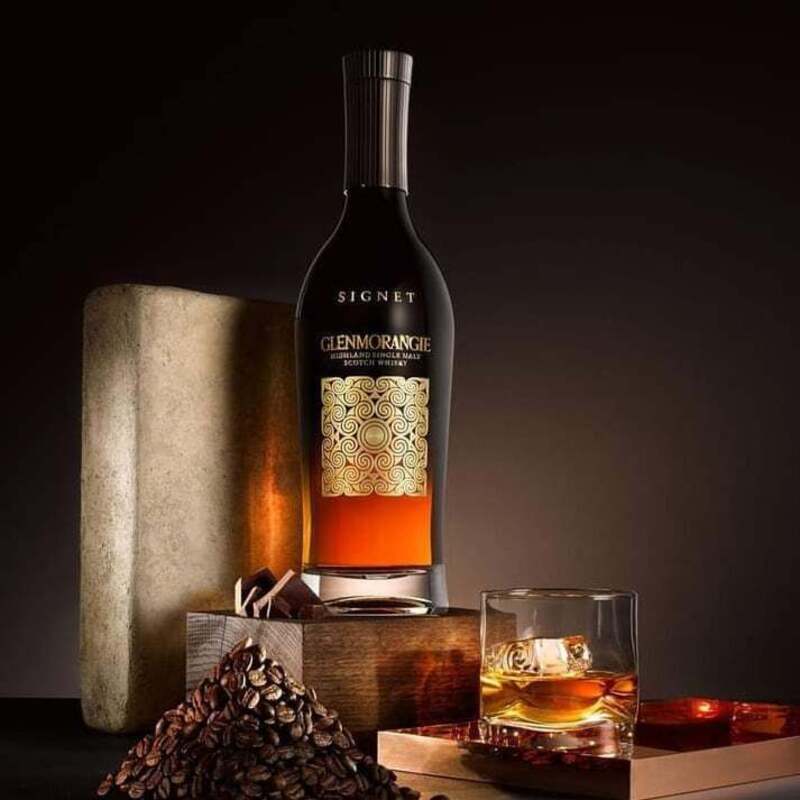 Glenmorangie Signet
The Glenmorangie Signet is distilled twice through Glenmorangie's copper-pot stills, by a team of 16 distillers known as the 'Sixteen Men of Tain'. It is subsequently matured in bespoke American virgin oak casks before it is bottled at 46% and receives no chill-filtration.
While it carries no age statement, it has an element of some of the distillery's oldest and rarest stocks, ranging from 35 to 40 years old, in this Highland single malt.
This edition takes its name from the ornate square design that adorns most Glenmorangie bottles. The signet itself originated from the Hilton of Cadboll Stone, a Pictish artefact that dates back to around the year 800 AD.
 Nose: The nose begins with chocolate raisins and sugared mixed peels. Toasted spices, bread and butter pudding, and golden syrup complement these aromas, while a note of Angostura bitters lingers beneath.
Palate: Sweet, syrupy cinnamon and drying malt lead, before a suggestion of Terry's Chocolate Orange rises. The backdrop is filled with tobacco leaves and freshly roasted espresso beans, with a little honey-roasted cashew.
Finish: The finish dries and becomes pleasantly rubbery, as a touch of truffle oil emerges.
Click here to view/buy.

Glenfiddich 25 Years
The Glenfiddich 25 Years Old is drawn from a combination of American bourbon barrels and European oak sherry butts. The end product is complex and rich, with blended notes of raisin, vanilla and spice.
The Glenfiddich 25-Year-Old Rare Oak was originally released for the Travel Retail market. It's drawn from a mixture of Spanish Sherry and American bourbon barrels, resulting in a rich, complex flavour profile. Lively Sherried spice and juicy raisin notes blend well with the vanilla touches – a classic combination, and with good reason.
Click here to view/buy.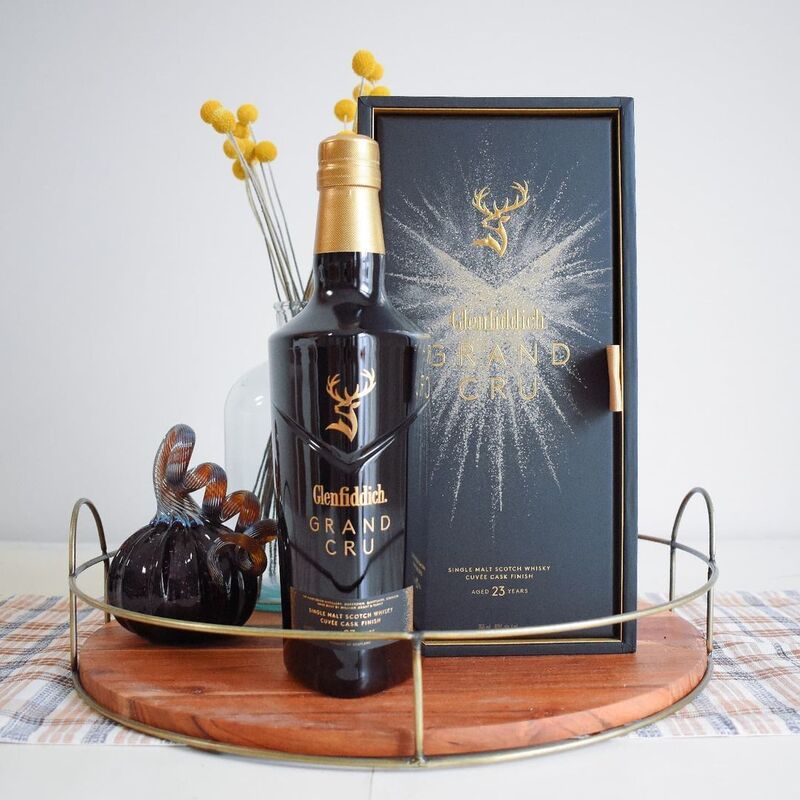 Glenfiddich  (Grand Cru) 23 years
Matured in a small number of ex-sherry casks and American oak casks, Glenfiddich Grand Cru has been finished for four months in a combination of first-fill and second-fill French oak casks. These casks have been used to ferment wine that will eventually become a famous sparkling wine.
Released in late 2019, the Grand Cru joined the Glenfiddich range as a permanent expression. Matured for 23 years in a combination of American and European oak casks, followed by a finishing period of up to 6 months in rare French cuvée casks. Bottled at 43% ABV.
Nose: Apple blossom, freshly baked bread and candied lemon.
Palate: Layers of rich vanilla oak, sweet brioche, sandalwood, pear sorbet and white grape.
Finish: Long, opulent and sweet.
Click here to view/buy.

Hennessy XO
In 1870, Maurice Hennessy created Hennessy XO for his circle of friends and introduced a new style of cognac.  Hennessy XO is the Original, the emblematic icon of the Hennessy Maison. 
Deep and powerful, the Eaux-de-vie of this Hennessy XO cognac is aged in young barrels and marked out by its power and energy, but also by its capacity to achieve a great roundness through time.
The palate is warmly embraced by the flavours of candied fruit.
Click here to view/buy.
Remy Martin XO
Rémy Martin XO blends up to 400 Eaux-de-vie. The art of blending allows us to express the full aromatic complexity of this XO Cognac.
You can drink Rémy Martin XO neat or on ice. The delicate aromas of Rémy Martin XO can also perfectly mix into an Old Fashioned.
For an ideal pairing, XO can be accompanied by a cigar or chocolate.
Click here to view/buy.

Martell XO
Martell XO has a spicy, rich crescendo starting with the mellow elegance of the Borderies, followed by the intensity and finesse typical of Grande Champagne Eaux-de-vie.
This prestige cognac is rounded and fruity on the palate followed by the characteristic power and finesse of Eaux-de-vie from Grande Champagne. It has a long and silken finish.
On the nose, you can smell ground spice (black pepper, coriander) and red berries. Rich fruit flavours: fig chutney and compote, almonds and walnuts.
Ideal for special occasions. Best enjoyed neat or with a splash of water.
Click here to view/buy.

Royal Salute 21 Years
Born as a tribute to a queen, this blended whisky is crafted with a desire for perfection. The story of Royal Salute is unlike any other whisky.
To this day, Royal Salute has marked each significant event in the lives of the British Monarchy and is unique in having only ever used whiskies aged at least 21 years in its blends. It is this unique commitment to quality and tradition that has given rise to the informal motto, "We Begin Where Others End".
Nose: Brings rich, fruity aromas and a sweet fragrance of autumn flowers on the nose with powerful whiffs of sweet pears and citrus fruits and a dry oakiness enhanced with subtle notes of sherry and smoke. 
Palate: Full, deep and fruity flavours with a subtle smokiness, sweet orange and fresh pears before a medley of spices with hazelnuts and a rich, long, lingering finish.
Click here to view/buy. 

Courvoisier XO
Rich and full-bodied, yet still exceptionally smooth, this luxurious XO contains long-aged Eaux-de-vie from Grande & Petite Champagne for grace & flavour, plus a little Borderies for structure and depth.
X.O. (or extra old) Cognacs require a minimum of six years of ageing for the youngest cognac in the blend, with the average age running 20 years or older. 
All Cognac houses maintain inventories of old vintage Cognacs to use in blending these top-of-the-line brands. The oldest Cognacs are removed from their casks in time and stored in glass demijohns (large jugs) to prevent further loss from evaporation and to limit excessively woody and astringent flavours.
Nose: with a honeyed floral bouquet highlighted by violets. 
Palate: is velvety, and somewhat oily, with candied orange peel, vanilla, and blackberries, shifting towards the back with bitter notes of cacao and pistachio shells. 
Finish: offers menthol and spicy, astringent oak, along with dark chocolate-covered raspberries
Click here to view/buy.

Simonsig Tiara
An interesting Bordeaux blend from Stellenbosch, South Africa. Deep ruby colour, clear. A pronounced nose of blackcurrant, cherry, and plum mixed with notes of creosote and smocked meat. Later they give way to vanilla and backing spices aromas. Dry on the palate, flavours of black cherry, tobacco, cedar and liquorice. Medium-bodied, medium-ripe tannins. Soft and round, well-balanced. Long finish with hints of violets and mulberry. 
Best paired with beef, poultry and lamb.
Click here to view/buy.

Grahams Fine Tawny 10 Years
A quality glass of Port. It has aromas of raisins, dates, spiced almonds and butterscotch. The palate is lush and smooth with sweet raisins, dried fig, smoked almonds, butterscotch and vanilla. Mild acidity and good woodiness to it. This wine makes for a lovely late-night glass.
Click here to view/buy.
Having found a perfect corporate gift for your valued clients and partners, we can have it engraved and gift-wrapped. We also do personalized gifts and gift hampers. If you have not found what you are looking for in this list, we have a broad category of drinks to choose from on our website.
Buy corporate holiday gifts online in Nairobi. We have fast delivery within Nairobi CBD and its environment: get free deliveries for orders above KSh 3,000.
You can also drop by our physical shops along Biashara Street and Accra Road within Nairobi's CBD.
Deliveries happen between Monday and Saturday from 10 AM to 6 PM.
Call 0705570066 for more information, inquiries or to place an order.
By Roseline Maina: Digital Marketer