What is the end of year party? This is the time of the year where we celebrate the year's yields and achievements. End year party celebrations at work show gratitude from management and are used to make memories and strengthen cohesion within the organization. A lot of companies have adopted this culture to appreciate and recognize their partners and staff.
Planning an end of year party can be a lot of work; from establishing the party theme, decor, coming up with a food and drinks menu. However, once the theme of the party has been established, this article should make it easier for you to decide which drinks to serve.
 How do you celebrate the end of year party? Here are ideas for throwing an end year party for work.

Non-Alcoholic Wine & Beer
The party can opt to serve soda or non-alcoholic wine, like Chamdor and Rendez Vous, if you would rather not indulge in any alcoholic drinks. You can also opt for non-alcoholic beer line Bavaria non-alcoholic or Coolberg.
It is a good idea to have such options for those who do not indulge in alcoholic drinks or those who will be driving later on.
Wine
Wine is the safest choice if you want to indulge in a little alcoholic drink without really overdoing it. It is best served when it is a sit-down occasion. White wines, either sweet or dry, are known to be served in events, especially if it is a big company affair. Red wine, either sweet or dry, can be served if it is an intimate event. But whichever choice you go with, be sure it will be an eventful occasion.
 Dry wines recommendation: Nederburg, Durbanville, Simonsig, Tall Horse and Merques
Sweet wines recommendation: The nobile wines (Bianco, Rosso, Nero, and Crema), Pierre Marcel, Robertson, Four Cousins, 4th Street, and Amani Bay
Beer
Beer comes in handy especially if the end year party is paired with team building. Enjoying that bonfire after a day of different activities relieves tension around the group, and beer creates an environment for a good storytelling and sharing session.
Beer recommendation: Tusker beers, White Cap, Guinness, Heineken, Faxe and Atlas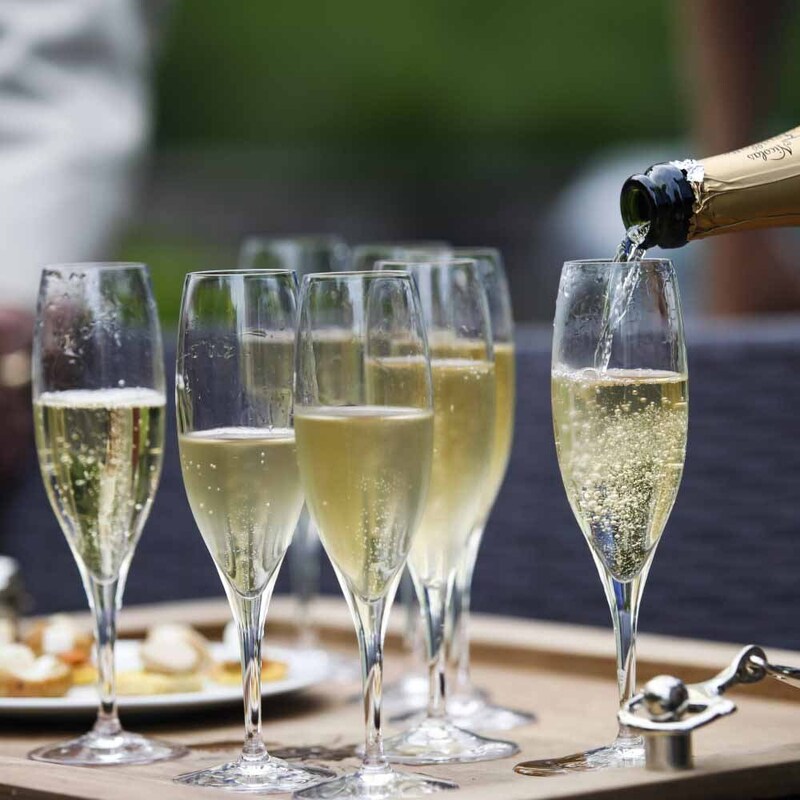 Champagne & Sparkling Wine
Champagne or sparkling wine are the go-to drinks for celebrations. An end year party celebration definitely calls for some bubbly. Celebrating your partners, clients and staff goes a long way to make them feel part of the team, and popping some bottles of champagne/sparkling wine is the perfect way to do that. However, do not indulge too much because champagne/ sparkling wine can quickly get you drunk. A glass or two should suffice.
Sparkling Wine recommendation: Andre, Fragolino, and Prosecco
Champagne recommendation: The Moet & Chandon Champagnes, and Veuve Clicqout

Cocktails
Cocktails are a great way to enjoy low-content alcohol for especially high-alcohol content drinks like spirits. This comes in handy if you are looking to indulge in Cognac, Whisky, Gin and Vodka.
Do you know what the people who will be in attendance drink? If not, we can advise or recommend what to buy.
If you are planning an event and drinks are in the books get in touch with us. We have great discounts on our drinks for this festive season. Let us end the year with a BANG!
 We have vans and delivery bikes that deliver products to various locations in Nairobi. The vehicles help us deliver to our customers on time. If you are outside of Nairobi, we do parcel delivery through either G4S or Wells Fargo.
 We are open daily from 10.00 am to 8.00 pm Monday to Thursday; 10.00 am to 8.00 pm on Friday and 10.00 am to 7.00 pm on Saturday.
Would you like to pay us a visit for a chat? Find us at Watersys Plaza, Biashara Street, Nairobi Kenya. Our head office is located on the second floor. Or, give us a call at 0705570066. 
You may also fill in the form below and we shall get in touch to address your wants and needs.
MERRY CHRISTMAS AND HAPPY NEW YEAR 2022.
By Roseline Maina: Digital Marketer